Locations Served
---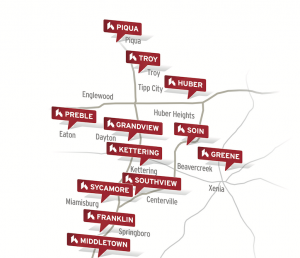 Kettering Medical Center
Nestled in Kettering, Ohio, Kettering is our flagship department.  Providing Level II trauma services, Kettering is the network tertiary referral center. Kettering is an HFAP accredited Comprehensive Stroke Center and American Heart Association's Stroke Elite Plus award winner and a Watson Top 100 Hospital.  Kettering serves as a training hospital for Wright State University's Emergency Medicine residency.
Indu and Raj Soin Medical Center
Located in Beavercreek, Ohio, Soin is near Wright-Patterson Air Force Base and Wright State University.  Soin Medical Center is a Level III trauma center, interventional cardiac site and HFAP accredited Primary Stroke Center.   With 113 inpatient beds currently, Soin will open a 5-story expansion tower providing additional intensive care, surgical suites and interventional cardiac catherization labs in the Spring of 2020. 
Sycamore Medical Center
HFAP accredited primary stroke center, American Heart Association's Stroke Gold Plus award winner and a Watson Top 100 Hospital nine years in a row, Sycamore remains one of our gems.  As a Press Ganey Guardian of Excellence winner, Sycamore is dedicated to delivering excellent care to the diverse patient population.  Sycamore is a training site for residency programs including emergency medicine, internal medicine and surgical.
Franklin-Springboro Emergency Department
As a Press Ganey Guardian of Excellence winner, Franklin excels in delivering high quality, empathetic care to every patient.   Franklin is a certified Stroke Ready Center by HFAP with full service telemedicine capabilities when moments matter.  In addition to emergency services, Franklin also offers outpatient services including laboratory and radiology services.
Huber Emergency Department
Huber was the region's first free-standing emergency department.  Located in Huber Heights, Ohio near the crossroads of Interstate 75 and 70, the facility offers an outpatient pharmacy as well as primary and specialty care offices.  Like the other network free-standing emergency departments, Huber is Stroke Ready Certified.
Greene Hospital
Situated in Xenia, Ohio, the hospital has served Greene county for decades.  The hospital maintains a Level III trauma designation and is a certified Primary Stroke Center with intensive care and medical/surgical units.
Southview Medical Center
Southview is a community hospital specializing in women's health and home of the network hand surgery center.   The institution is a certified primary stroke center and has full-service interventional cardiac catheterization capabilities.
Grandview Medical Center
Grandview Medical Center is an urban Level III Trauma Center located in Downtown Dayton.  A storied osteopathic training hospital, Grandview Medical Center is home to many residency programs including emergency medicine.  Grandview underwent significant renovations in 2018 including addition of two state-of-the-art trauma bays.
Preble County Emergency Department
Preble County Emergency Department is a community hospital located in rural Eaton, Ohio.  Preble County is a certified Stroke Ready facility and home to Medflight 8, a regional air transport service.  The facility offers advanced processes for telemedicine evaluation of acute stroke, hand surgery and mental health assessments from our larger anchor hospitals. Preble was recently awarded the Press Ganey Guardians of Excellence Award for outstanding patient satisfaction.
Middletown Emergency Department
Middletown Emergency Department was built with the patient in mind.  Offering many outpatient specialties in addition to the Emergency Department, Middletown encompasses many patient needs including ED Observation services to allow for additional evaluations that keep the patient close to home.
Troy Hospital
Troy is a welcomed addition to the heart of historic downtown Troy, Ohio.  Opened June of 2019, the facility has a full-service ED along with inpatient medical, cardiac, oncologic and surgical services.
Piqua Health Center
Opened in August of 2020, Piqua's Emergency Department is the 12th location EM Specialists proudly serves.  Located directly off the highway Piqua Health Center includes a full-service emergency department containing 24/7 lab and imaging capabilities.  Additionally, primary care, cardiology, general surgery, vascular surgery and pain management offices are on site.